What a Wonderful Ride...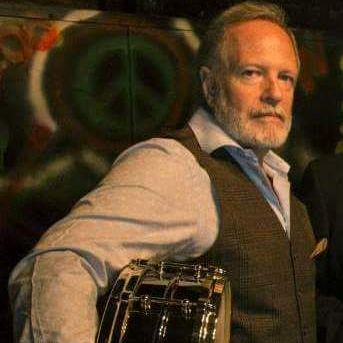 The Story Starts Here
A native of New Orleans, Michael Ragland spent his early years soaking up the sounds of the Big Easy. Years later, his mother moved them to her home state of Oklahoma where he was in the high school marching band and orchestra, earning individual Tri-State Honor Band awards and music scholarships, while also playing in his first rock and roll band.
Summers were spent in Memphis with his father's family. At the not-quite-legal age of 15, his uncle tossed him the keys to his car, which resulted in a nightly pilgrimage to Beale Street.
At 17, Michael played drums on his first record with his band, Mineral Well and in the local music scene. While still in college, he joined Don Hayes' band (Blue Jean Bandits, Oklahoma Twister), with whom he spent four years touring and recording, opening for and sharing the stage with Jack Greene and Jeanie Seely, Jodi Miller, Moe Bandy, Boxcar Willie, The Hagar Twins, and others.
Graduating from college with a minor in music and after a short stint as a high school teacher, Michael moved to Nashville where he became involved in Gospel Music, producing demos for several singers and playing in church worship bands. Upon returning to Oklahoma in the late 80s, he continued to record and play for various Rock, Country, and Gospel artists. In 1991, he became the drummer for SonRise, a popular Canadian Christian Rock group and spent the next 2 ½ years performing across Canada and the U.S.
One of Mike's Austin drummer friends described him as, "The perfectly imperfect mix of New Orleans Second Line and Funk mixed with Country and Red Dirt Soul". There's no doubt you'll hear a bit of that in every groove he plays.
Mike decided early on to make the necessary investments in education and training to become a successful musician.
As a result, he has taken drum lessons from Ed Shaughnessy, of Tonight Show fame, Dom Famularo, Global Drumming Ambassador and Educator, and Stanton Moore, a fellow New Orleanian and noted educator as well as drummer for Galactic.
Mike also holds a BA in Marketing, BS in Education, and an MA in Organizational Development.
Presently, Mike is behind the drums for Jesse Alan and also R&R Railroad. From 2013 to 2020, Mike played and recorded with Moonlight Ford. Along the way, he has played with Miss Blues, Killin' Time Band, The Beatsmacks, Guardians of the Groove , and High Speed Boom. From 2013-2015, he played in the house band for Leon Russell's birthday celebrations alongside Leon's longtime guitarist, Chris Simmons. He may be most proud though, of the 23 years he has spent as drummer/percussionist for his dear friend, the late Pawnee Music Evangelist Ellis Horsechief, who never failed to introduce Mike as, "the best drummer in the world!"
Mike Ragland plays Ludwig drums, Zildjian cymbals, Evans drumheads, and Bopworks Drumsticks.
He has also been known to break out his 1952 Slingerland Radio King and 1967 Ludwig Classic drum kits for special occasions.
A Louisiana Creole, he is a Gumbo enthusiast, and he likes Tabasco on…well, everything.